Career Summary:
Klaus Niedzwiedz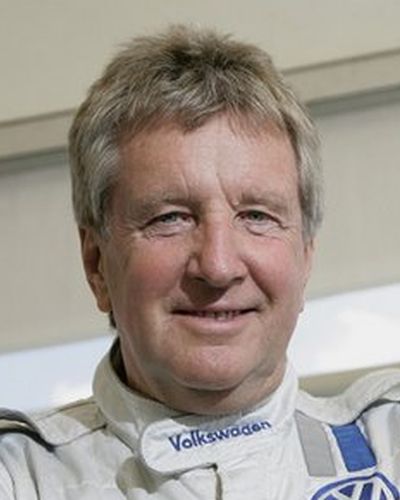 February 24, 1951

72

Germany

Not Active

287

33

75

25

16

11.50%

26.13%
Klaus Niedzwiedz is a German former racing driver and motoring journalist. He reached a peak of his racing career in the 1980s when he scored few notable wins and championship titles in touring car and sports car competitions.
In 1984, Niedzwiedz was the Interseries European champion with Zakspeed Ford C1/8. In touring car competitions, he was a runner-up with Ford Sierra in the 1987 World Touring Car Championship and in the 1989 Deutsche Tourenwagen Meisterschaft (DTM).
He won the 24 Hours of Nürburgring two times, in 1982 and 1987, driving a Ford Capri and Ford Sierra RS Cosworth. He was a lap record holder for touring cars at notorious Nürburgring Nordschleife circuit with Ford Capri Turbo. Late in a career, during the 2000s, he scored several class victories at Nürburgring 24 Hours.
Racing with Zakspeed's Ford Capri since 1979
Born in February 1951 in Dortmund, Klaus Niedzwiedz was racing with Mini Cooper and Formula Vee before he became Ford factory driver in 1979. He was recruited to drive Ford Capri Turbo for Zakspeed in the DRM (Deutschen Rennsport Meisterschaft – German Racing Championship) but also Ford Escort II RS in the European Touring Car Championship.
After a couple of class wins in the ETCC, the first overall victory came in DRM race at Zolder in March 1980. Later in the season, he added one more win at Nürburgring Supersprint, finishing fifth in final DRM standings.
Le Mans 24h debut in 1981 with Porsche
In 1981, Niedzwiedz continued to race with Ford Capri Turbo in the DRM, scoring one victory (Nürburgring Supersprint) and finishing ninth in the points.
In June 1981, he made a debut at 24 Hours of Le Mans with Joest Racing. He was sharing the #14 Porsche 908 with Reinhold Joest and Dale Whittington, not finishing the race.
1982 – lap record and victory at Nürburgring Nordschleife
The season 1982 was marked by victory at Nürburgring 24 Hours race, in a Ford Capri, he was sharing with Klaus Ludwig and Dieter Gartman. Niedzwiedz continued to drive Ford Capri for Zakspeed in the DRM, finishing third in the points with two wins (Zolder and Nürburgring).
That year, Capri had a new 1.7L turbo engine and Niedzwiedz managed to set a lap record at 22.8-km long Nordschleife for Group 5 touring cars. His time 7.08.59 was just ten seconds slower than Formula 1 record time set by Niki Lauda in 1975.
Besides touring car races, Niedzwiedz also made two starts in the World Endurance Championship with Ford C100. He drove that car also at Le Mans 24 Hours, not finishing the race.
1984 Inteserie champion with Zakspeed C1/8
In the 1983 DRM season, Niedzwiedz was driving Zakspeed C1/8, what was in a fact converted Ford C100. He scored one victory at Hockenheim and finished third in the points.
In 1984, Niedzwiedz expanded his activities in the Interserie sports car competition, winning four rounds in the #4 Zakspeed C1/8 and taking the championship title. In 1985, he was defending Interseries title in the #1 Zakspeed C1/4 but scored no wins.
1985 - racing with Ford Sierra XR4Ti in DTM, BSCC and ETCC
In 1985, Niedzwiedz entered the second season on newly established Deutsche Tourenwagen Meisterschaft (DTM), driving a Ford Sierra XR4Ti in four races and scoring one victory. He also appeared with that car in one round of the British Saloon Car Championship, finishing third at Silverstone, and two rounds of the European Touring Car Championship.
In other competitions, he recorded two starts in a Porsche 956 in the World Endurance Championship, at Monza and Hockenheim.
Joining Eggenberger Motorsport in 1986
In 1986, Niedzwiedz continued to race with HWRT's Ford Sierra XR4Ti in the DTM but also joined Eggenberger Motorsport in the European Touring Car Championship, sharing a car with Steve Soper.  They finished seventh at Spa 24 Hours and won a race at Estoril.
Niedzwiedz also recorded four starts in the World Sports-Prototype Championship with Porsche (956 and 962) but without notable results.
Second in the 1987 WTCC, victory at Nürburgring 24h
Niedzwiedz participated in the 1987 World Touring Car Championship with Eggenberger Motorsport/Ford Texaco Racing, driving Ford Sierra RS Cosworth in five rounds and then Ford Sierra RS500 in six rounds. He scored four wins together with Klaus Ludwig, losing a title by just one point to Roberto Ravaglia.
It was a little bit controversial season as Niedwiedz and Ludwig were disqualified from two races, at Monza and Bathurst 1000, and that directly affected the final championship results.
In 1987, Niedzwiedz recorded his second win at Nürburgring 24 Hours. He won in a Ford Sierra RS Cosworth, sharing a car with Klaus Ludwig and Steve Soper.
1989 – second place in DTM and podium at Bathurst 1000
In 1988, Niedzwiedz had a double programme with Ford, driving for Eggenberger Motorsport in the ETCC (8th place) and for Ringhausen ABR Motorsport in the DTM (17th place). He also joined Allan Moffat's team at Bathurst 1000, not finishing the race. He also planned to race at Le Mans 24 Hours with Sauber Mercedes but their two cars didn't start the race due to tyre issues.
In 1989, Niedzwiedz improved his performance in the DTM, finishing as a vice-champion. He was a race winner four times in Eggenberger's Ford Sierra Cosworth, losing a title to BMW's Roberto Ravaglia. He also gained a success at Bathurst 1000, finishing in the second place together with Frank Biela in Allan Moffat's Ford Sierra RS500.
Two DTM seasons with Opel
Niedzwiedz's longstanding connection with Ford came to an end in 1990 when he joined Opel Team Irmscher in the DTM, driving an Opel Omega 3000 24V. Without wins or podiums, he finished 22nd in the points.
He spent one more DTM season with Opel, driving an Omega for Eggenberger Motorsport, but his results were disappointing again.
Three more Bathurst attempts with Ford
However, Niedzwiedz stayed connected with Allan Moffat and recorded three more Bathurst 1000 attempts with his team in 1990, 1992 and 1996. In 1990, he finished 10th in a Ford Sierra RS500, sharing a car with Frank Biela and Pierre Dieudonne.
He was 19th in 1992 in a Ford Sierra RS500, sharing a car with Gregg Hansford, and tenth in 1996 in a Ford EB Falcon, sharing a car with Ken Douglas.
Six seasons in national racing competitions before retirement
After leaving top class racing at the end of 1991, Niedzwiedz returned to race tracks in 1993, competing in the ADAC GT Cup with Wolf Racing's Ford Escort RS Cosworth, Next year, in the same competition, he was driving a Porsche 911 Carrera for Mamerow team.
He then switched to Honda Accord in the German Supertouring Championship in 1995 and 1996. In 1997, he drove Audi A4 quattro and then Opel Vectra 16V in the German Supertouring Championship.
Regular competitor at Nürburgring 24 Hours
Niedzwiedz retired from full-time racing at the end of 1998 but he actually never stopped racing. During the 2000s, he was a regular contestant at his most beloved race track, the Nürburgring Nordschleife, scoring several good results and class victories. His cars in those attempts were Honda Civic Type-R and Volkswagen Scirocco GT24-CNG. He was also a guest driver in some cup competitions such were Seat Leon Supercopa or Volkswagen Scirocco R Cup.
Successful TV career since 1984
In 1984, while he was still very active in racing, Niedzwiedz started his journalist and television career, working as a moderator at SAT 1 channel's Treibstoff motor magazine. Later he worked for n-tv, ZDF and NRW-TV.
Photos: touringcarimages.com,