Career Summary:
Steve Soper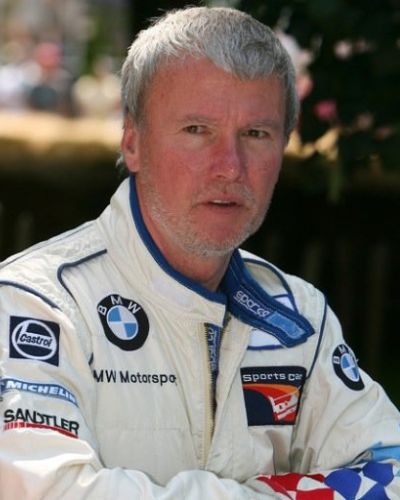 September 27, 1951

72

United Kingdom

Not Active

348

64

138

26

40

18.39%

39.66%
Steve Soper is a British racing legend whose racing career started in 1970 and he is still active in the historic racing events.
On the long list of Soper's achievements, most of the success he gained in the touring car racing. The highlights are the victories in some famous races, such were 24h Nürburgring (1987), 24h Spa (1992, 1995) and Macau Guia Touring Car race (1997). Soper was Japanese touring car championship and the runner-up in British, German and European touring car competitions. In 1983, Soper was on the top of the final classification in the British Touring Car Championship, driving a Rover Vitesse for Tom Walkinshaw Racing, but the whole team was disqualified and he lost a title.
He was successful in the sports car racing also, finishing second in the 1997 FIA GT Championship. He participated five times at 24 hours of Le Mans, finishing best in fifth place in 1999.
It all started with a crash at Silverstone
Steve Soper's first race car was a Ford Escort GT in 1970. The 18-year-old Steve entered a club event at Silverstone but his first race lasted until the first corner, where he had a collision with a Jaguar XK150.
In 1971, Soper returned to Silverstone in a Mini Cooper and crashed again during a practice. He repaired a car and his career finally started. He competed in the Special Saloons Championship. Next year, he won five races in a Hillman Imp. From 1973, he was in a Mini again but financial difficulties forced him to sit out most of the seasons.
Winning first championship title in 1979
For 1976, he decided to enter one-make series, choosing the Mini 1275 GT Championship.With one victory, he finished 6th in the championship. He stayed in the series few more seasons, finally becoming a champion in 1979.
Soper started a new decade with a victory in the Ford Fiesta Cup at his first attempt. In 1982, he won the third one-make series in a career – the MG Metro Challenge. That year, he also competed in the STP Championship, driving a Dallara-Fiat for Radbourne Racing.
Third place in debut BSCC season
In 1982, Soper entered the British Saloon Car Championship, driving an Austin Metro 1300 and scoring five Class D victories, fighting against Richard Longman for most of the season. At the end, Longman took the Class D championship, Soper was second. In the overall standings, he finished third.
1983 - Soper won then lost a title
Soper's performance caught an attention of the bosses at Austin Rover, so he was invited to drive a factory-entered Rover Vitesse in the 1983 BSCC season. In the #4 car, prepared by Tom Walkinshaw Racing, he scored five outright wins and finished a season on the top of the standings, ahead of teammate Pete Lovett.
However, six months after the championship was over, the RAC disqualified the Rover team entirely due to bodywork irregularities and engine installation issues. Soper lost his championship trophy, handing it to Andy Rouse.
Debuting at Le Mans 24h and Spa 24h in 1983
Besides controversial BSCC season, there were other notable highlights in 1983. Soper has won the famous RAC Tourist Trophy at wet Silverstone, sharing a TWR Rover Vitesse with Rene Metge against the mighty Jaguar XJSs and BMW 635s.
In June, he debuted at 24 hours of Le Mans, driving a Mazda 717C. He, Jeff Allam and James Weaver finished 18th overall and second in the C Junior class. In July, Soper debuted at Spa 24 Hours, sharing a Rover Vitesse with Rene Metge and Eddy Joosen, but they didn't finish a race.
Two seasons with Rover in the ETCC
Soper stayed with Rover in 1984, started only two BSCC races and taking a win at Thruxton. He recorded six consecutive retirements in the European Touring Car Championship before finishing fifth at Salzburgring.
Next year, he was even less active in the BSCC, participating in just one race in an MG Metro Turbo. In the ETCC, he scored several podiums in a Rover Vitesse, sharing it with Eddy Joosen or Jean-Louis Schlesser. Soper also participated in one race of the World Endurance Championship, driving a TWR Jaguar XJR-6 at Fuji 1000 km race.
Switching to Ford in 1986
For the 1986 ETCC season, Soper switched to Ford, driving a Ford Sierra XR4Ti for Eggenberger Motorsport. He was sharing a car with Klaus Niedzwiedz.
After being the fastest qualifier at Brno and setting the fastest lap at Silverstone, Soper finally scored his maiden ETCC victory in season's finale at Estoril.
Fifth place in the inaugural World Touring Car Championship
In 1987, Eggenberger Motorsport and Stev Soper entered the inaugural World Touring Car Championship. Their race machine at the start of the season was Ford Sierra RS Cosworth and then Ford Sierra RS500 later in the season.
At the first race, at Monza, Eggenberger Sierra's  were excluded because fuel injection system was deemed illegal. Steve Soper and Pierre Dieudonne won the Bathurst 1000 at Mount Panorama, but they were excluded a few months later. After all, the only season's victory was at Calder Park and Soper finished fifth in the championship standings.
1987 - victory at 24 hours of Nurburgring
Besides racing in the WTCC, Soper also participated in some other series (ETCC, DTM) or non-championship races. The highlight of the year was a victory at 24 hours of Nurburgring.
He was sharing an Eggenberger's Ford Sierra RS Cosworth with Klaus Ludwig and Klaus Niedzwiedz. Their victory was the first win of the turbo-powered car in the 24-hour race. Soper also became the first British driver to win the famous race.
European Touring Car Championship runner-up in 1988
Soper reached his peak with Ford in 1988, finishing second in the European Touring Car Championship, although he was disappointed with such a result because he thought that the team could help him to win the championship. At the end, Ford secured manufacturers title but Soper lost by seven points behind BMW's Roberto Ravaglia.
In 1988, Soper also raced in three rounds of the BTCC, winning at Thruxton. At Spa 24 Hours, he finished fourth in a car he was sharing with Bernd Schneider and Frank Biela.
Soper joined BMW in 1989
Soper's disappointment with Ford bosses led to his switch to BMW in 1989. His main competition was DTM (Deutsche Tourenwagen Meisterschaft). He won two times with Team Zakspeed's BMW M3, finishing fifth in the final standings.
Besides DTM, he participated in one BTCC race (11th at Donington), at Spa 24 Hours (DNF) and two races in New Zealand. He finished second in Wellington 500 race, sharing a BMW M3 with Fabien Giroix.
Return to BTCC with BMW
In 1990 DTM season, Soper won two races in a Team Bigazzi BMW M3, finishing fourth in the championship. He also joined Bigazzi in the Italian touring car races, scoring few podiums. At Spa, Bigazzi's #27 BMW M3 Sport Evo finished fourth, driven by Steve Soper, Armin Hahne and Jean-Michel Martin.
In 1991, his third DTM season with BMW, Soper scored three wins to finish fifth in the championship. That year, he returned to the British Touring Car Championship, winning three races and finishing fourth in the final standings.
Spa 24 Hours winner in 1992
In 1992, the highlight of the season was a victory at Spa 24 Hours. Soper was sharing the #5 BMW Fina Bastos Team's M3 with Jean-Michel Martin and Christian Danner. They beat teammates in the #3 car after Soper overtook Eric van de Poele in the penultimate lap.
Soper was driving BMW M3 also in the DTM, scoring two wins and finishing ninth in points. In the British Touring Car Championship, he was racing with new and unproven BMW E36 318is. Scoring four podiums, he finished sixth in the points.
Second place in the 1993 British Touring Car Championship
In 1993, Soper and Joachim Winkelhock were drafted to drive BMWs, operated by Schnitzer team, in the British Touring Car Championship. They dominated the season, with five wins for Winkelhock and three wins for Soper. The German driver took the championship trophy, Soper was second.
Outside BTCC, Soper raced at FIA Touring Car Challenge and Bathurst 1000, retiring in both events.
Soper started Japanese adventure in 1994
Soper stayed with Schnitzer in the 1994 BTCC season, but it wasn't captivating enough for him, so he also participated full season in the Japanese Touring Car Championship. In the BTCC, he won just once (Knockhill) to finish seventh in the points. In Japan, he was in a fight for the title. He won five races to finish third in the final standings, just three points behind Masanori Sekiya and one point behind Tom Kristensen.
Next year, Soper won three times and added seven more podiums, winning the 1995 JTCC title ahead of defending champion Sekiya.
1995 - second victory at Spa 24 Hours
The season 1995 was marked by Soper's second victory at Spa 24 Hours. In July 1995, the #8 BMW 320i was a victorious car at Spa, driven by Steve Soper, Joachim Winkelhock and Peter Kox. They won with an advantage of nine laps ahead of another BMW.
In 1995, Soper also participated in the FIA Touring Car World Cup at Circuit Paul Ricard, finishing third, behind Audi drivers Frank Biela and Emanuele Pirro.
Return to Le Mans in a McLaren F1 GTR
In 1996, Soper's main competition was the German Supertouring Championship, in which he was driving a BMW 320si for Team Bigazzi. After three wins in 18 races, he finished second in the points behind Audi's Emanuele Pirro.
The more interesting thing in that season was Soper's return to Le Mans. As BMW engine powered  McLaren F1 GTR car, some BMW touring car drivers were hired to compete in sports car races. Soper joined Bigazzi Team's crew at Silverstone 4 Hours and then at Le Mans 24 Hours. Sharing a car with Marc Duez and Jacques Laffite, he finished 11th.
Marc Duez was Soper's teammate, together with Peter Kox, at 1996 Spa 24 Hours, where they finished second.
Second place in the 1997 FIA GT Championship
Soper showed satisfying performance in a McLaren F1 GTR so he was hired to drive a full season in the 1997 FIA GT Championship. Paired with J.J. Lehto, he won four races but the team split crews at season's finale at Laguna Seca, so Soper had to share a car with Roberto Ravaglia. That didn't finish good, as both the team and drivers lost championships to Mercedes.
Soper recorded one more notable win in a McLaren that year. In January, he, Nelson Piquet and Johnny Cecotto won the Mil Milhas Brasileiras at Brasilia circuit. In June, at Le Mans 24 Hours, he retired after 236 laps, sharing a car with J.J. Lehto and Nelson Piquet.
Victory at 1997 Macau Guia Race
In the touring car racing, Soper's greatest achievement in 1997 was a victory at the famous Macau Guia Touring Car Race, in his fifth attempt. He was driving Bigazzi's BMW 320i, setting the lap record.
Of other touring car races, he participated in just two races of the German Supertouring Championship.
Three more seasons with BMW prototypes
Soper continued to drive for BMW in 1998. He participated in the International Sports Racing Series in a Riley & Scott with a BMW engine. In four races with BMW Team Rafanelli, he was on a podium two times. His teammate was Hans-Joachim Stuck. Soper and Stuck raced together at 1998 Le Mans 24 Hours, joined by Tom Kristensen in the #1 BMW V12 LM. They retired after 60 laps.
Soper scored his best Le Mans result in 1999 when he was driving BMW V12 LM for Price+Bscher. Sharing a car with Thomas Bscher and Bill Auberlen, he was fifth. The rest of the season he spent in the American Le Mans Series, sharing a BMW V12 LMR with J.J. Lehto. They won three races.
The end of Soper's career with BMW followed at 2000 Sebring 12 Hours, where he was sharing a BMW V12 LMR with Bill Auberlen and Jean-Marc Gounon. It was Soper's last race in a BMW, they finished fourth.
Ending a career with Peugeot in the BTCC
Soper ended his professional career in 2001, at the age 50, spending one more full season in the British Touring Car Championship. He was driving the #44 Peugeot 406 Coupe for Peugeot Sport UK. Scoring no wins or podiums, he finished sixth in the final standings.
In recent years, from 2014 onwards, Soper was participating in historic racing events, driving some legendary race cars such are Ford Capri, Ford Cortina Lotus, Ford GT40 or Jaguar E-Type.