Career Summary:
Sarah Fisher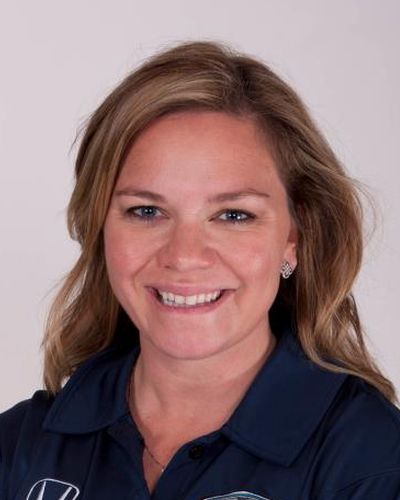 October 04, 1980

43

United States

Not Active

106

2

1

1

1.89%
Sarah Fisher is a former racing driver and a team owner who set many records in the American open-wheel racing. In 2000, at the age 19, she became the youngest ever female driver to start at Indianapolis 500. In the same season, she became the first women to score a podium finish in an Indy Car race. Two years later, she was the first women to win the pole position.
In total, Fisher collected 81 Indy Car starts, including nine starts at Indianapolis 500, and she holds a record for the biggest number of starts by a female driver at Indianapolis 500. She has won the Most Popular Driver award for three years in a row from 2001 to 2003.
In 2008, she founded the Sarah Fisher Racing, becoming the first female driver/owner in an Indy Car history. Sarah retired from racing at the end of 2010. Her team was active, in various forms and with different co-owners, until 2015.
Successful years in the sprint car and midget races
Sarah Marie Fisher was born in Columbus, Ohio and raised in Commercial Point, Ohio. She started to compete in the early 1990s, entering quarter-midget and karting competitions. From 1995 to 1999, she was active in the sprint car and midget races.
After gaining lots of success in different competitions, she was ready to make a big step into Indy Car racing in 1999. In August, she was the youngest driver to pass IndyCar Series Rookie test.
Indy Car debut at Texas Motor Speedway
Sarah made her Indy Car debut on October 17 at Texas Motor Speedway, in the last round of the 1999 Indy Racing League season.  She was driving the #48 Dallara-Oldsmobile Aurora for Team Pelfrey, finishing 25th.
In 2000, Sarah joined Walker Racing in eight races, driving the #15 car. In August, at Kentucky Speedway, she finished third behind Buddy Lazier and Scott Goodyear, becoming the first ever woman to score a podium in an Indy Car race. At Indianapolis 500, she was 31st. She was third women in a history, after Janet Guthrie and Lyn St.James, to start at Indy 500.
Sarah was closest to victory at Homestead-Miami
In 2001, Sarah became the first women to run a full schedule in the Indy Car season. Still driving Walker Racing's #15 Dallara-Oldsmobile, she participated in all thirteen races. In April, at Homestead-Miami Speedway, she improved her best result by finishing second, behind Sam Hornish Jr. It stayed the best Indy Car result for a female driver until Danica Patrick won a race in 2008.
At Indianapolis 500, Fisher started 15th and finished 31st after an early accident on lap 7. At the end of the season, she was 19th in the points. The fans and crews voted her as the Most Popular Driver for the first time. She had been given that honor two more times in 2002 and 2003.
Joining Dreyer & Reinbold Racing in 2002
Sarah began the season 2002 without a ride after she was released from contract with Walker Racing. In the fourth round of the IRL season, at Nazareth Speedway, Dreyer & Reinbold Racing hired her as a replacement for injured Robbie Buhl. She finished fourth in the #24 G-Force-Infiniti.
Fisher stayed with the team at Indianapolis 500, starting ninth and finishing 24th. She then skipped two races but returned to the team for the remainder of the season, participating in eight more races.
What a year: maiden pole position, F1 drive, future husband...
In August, at Kentucky Speedway, she became the first ever female driver to score the pole position in a major open-wheel racing series. At the end of the season, she finished 18th in the points.
In September, Fisher had a chance to drive a McLaren F1 car during the practice session for the 2002 US Grand Prix at the Indianapolis Motor Speedway road course.
One more great thing happened in 2002. That year, Sarah met Andy O'Gara, her future husband, who was working for the team as her tire changer. They started dating in 2004, became engaged in 2005 and married in 2007.
The Most Popular Driver third year in a row
Fisher was a full-time driver for Dreyer & Reinbold Racing in 2003, driving the #23 Dallara-Chevrolet. Her best result was 8th place at Phoenix. At Indianapolis 500, she retired after just 14 laps.  She ended the season 18th in the points again, being voted as the Most Popular Driver for the third year in a row.
Having no sponsors for 2004, Fisher skipped the IRL season, participating only at Indianapolis 500 with Kelley Racing. She started 19th and finished 21st.
Fisher moved to stock car racing in 2005
In 2004, Fisher made a move to stock car racing. In October, she debuted in the NASCAR West Series at Phoenix, driving the #20 Chevrolet for Bill McAnally. She finished 21st, completing 104 of 150 laps.
Next year, she spent a full season in the NASCAR West Series, participating in all twelve races in the #20 Chevrolet for Bill Maropulos. She recorded four top 10 results, finishing 12th in the final standings. She took the Rookie of the Year title and the Most Popular Driver award. Fisher was also eligible to compete in the 3rd Annual NASCAR Toyota All-Star Showdown at Irwindale Speedway, where she finished 11th.
Rejoining Dreyer & Reinbold Racing in 2006
Fisher left NASCAR at the end of 2005, returning to the IndyCar Series in 2006. She participated in two races for Dreyer & Reinbold Racing, finishing 12th at Kentucky and 16th at Chicagoland. She returned full time in 2007, getting the #5 Dallara-Honda.
It was Fisher's most successful season when looking overall result, as she finished 17thin the points. She was two times in the top 10, at Texas and Iowa. At Indianapolis 500, she finished 18th, what was her best Indy 500 result to date. Along with Danica Patrick and Milka Duno, Fisher made that race a unique with three women at the start for the first time in a history.
Sarah founded her own team in 2008
In January 2008, Sarah Fisher introduced her own team, the Sarah Fisher Racing. Her husband Andy O'Gara, who was serving as her crew chief in the previous team, joined her. Her father-in-law John O'Gara, who was Team Manager at Dreyer & Reinbold, also joined a new team.
The team made a debut at Indianapolis 500 in may 2008. Sarah was driving the #67 Dallara-Honda, choosing a number that she was using earlier in a career in midget and sprint car races. She retired from the race on lap 106 after a contact with Tony Kanaan. Later in the season, Fisher started at Kentucky and Chicagoland.
Two more IndyCar seasons with his own team
Sarah Fisher stayed in the IndyCar Series for two more seasons, driving the #67 Dallara-Honda for his own team. In 2009, she started in six races, including Indianapolis 500. She finished 17th at Indianapolis Motor Speedway, what was her career-best result in the famous 500-mile race.
In 2010, Fisher participated in seven races. In his last attempt at Indianapolis 500, she was 26th. During that season, the team expanded to two cars, with Jay Howard and Graham Rahal driving the #66 and #67 cars.
Family life since 2011
During his last racing season, Sarah Fisher published a book '99 Things Women Wish They knew Before Getting Behind The Wheel of Their Dream Job'.
At the end of 2010, Sarah retired from racing, deciding to focus on family life. Nine months later, in September 2011, her daughter Zoey was born.
Sarah Fisher Racing was active until 2015
The Sarah Fisher Racing team continued to run the #67 car in the 2011 IndyCar Series, with Ed Carpenter as a driver. He won the penultimate race of the season at Kentucky Speedway, bringing the maiden victory to the team.
For the season 2013, the Sarah Fisher Hartman Racing team was formed after Willis E. Hartman became a co-owner. Josef Newgarden became the main driver, staying with the team for three seasons. For the 2015 season, the team merged with Ed Carpenter Racing, becoming the CFH Racing. Josef Newgarden remained with the team, scoring two wins. Both Fisher and Hartman withdrew from IndyCar in 2016 and Sarah's team came to an end, being rebranded to Ed Carpenter Racing.