Career Summary:
Scott Goodyear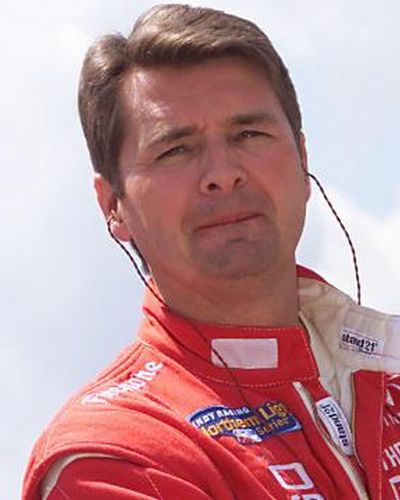 December 20, 1959

61

Canada

Not Active

182

20

49

12

7

10.99%

26.92%
Scott Goodyear is a Canadian former racing driver who spent the most of his career in the North American open-wheel competitions, recording 136 CART and Indy Car starts between 1987 and 2001. He won five times. At Indianapolis 500, he finished second on two occasions.
Goodyear  participated two times at 24 Hours of Le Mans, finishing on a podium in 1996 when he was driving a factory-entered Porsche 911 GT1. He was also a regular competitor at Daytona 24 Hours, scoring several podiums.
Formula Atlantic champion early in a career
Born in December 1959 in Toronto, Scott Goodyear made his racing debut in the late 1970s, participating in diffrent open-wheel competitions. In 1982, he entered the Can-Am Series, driving a Ralt RT1 for Midland Racing. In the following years, he competed in various racing disciplines, recording participation in the Can-Am Series, Trans-Am Series, Formula Mondial or Formula Atlantic.
Goodyear captured his first championship title in the 1986 Formula Atlantic East Series, driving a Ralt RT4 for Tom Mitchell Racing. In the same year, he participated in the CASC Rothmans Porsche Challenge Series in a Porsche 944, finishing in the third place. He was third again in the Porsche Challenge Series in 1987.
Daytona 24h and Le Mans 24h debut in 1987
In February 1987, Goodyear made a debut at 24 Hours of Daytona, driving a Ford Mustang for Roush Racing. He, Deborah Gregg, Bobby Akin and Scott Pruett finished ninth overall and the third in the GTO class.
A few months later, in June 1987, Goodyear also made a debut at 24 Hours of Le Mans. He was a member of Brun Motorsport crew in the #3 Porsche 962C, sharing a car with Bill Adam and Richard Spenard. They retired after 120 laps with a broken engine.
Starting an Indy Car career in 1987
Two weeks after Le Mans race, Goodyear made a debut in the CART Indy Car World Series, driving the #56 March-Cosworth for Gohr Racing at Meadowlands Grand Prix in New Jersey. He finished 22nd in his CART debut.
Until the end of the season, he made six more starts with Gohr Racing, finishing best in the eighth place at his home race in Toronto.
CASC Porsche Turbo Cup champion in 1988
In 1988, Goodyear's main competition was the CASC Rothmans Porsche Turbo Cup. Driving a Porsche 944 Turbo for Pfaff Motors, he won three races and took the championship title. Outside Porsche Cup, he made just one start in the IMSA GTP Championship, driving a Ford Mustang Probe for Tom Milner Racing at Daytona 24 Hours and not finishing the race.
In 1989, Goodyear participated in four IMSA Championship races, two times in the GTP class with Peerless Racing's Chevrolet Corvette GTP and two times in the GTO class with Audi of America's Audi 90 quattro. His Chevrolet co-driver was Jacques Villeneuve Sr while he was sharing an Audi with Hurley Haywood.
Full-time return to Indy Car World Series in 1990
In 1989, Goodyear made just two starts in the CART Indy Car World Series, driving the #91 Lola-Judd for Hemelgarn Racing in Toronto and Road America. He returned full-time to CART championship in 1990, driving a Lola-Judd for Doug Shierson Racing. He scored nine top 10 results, finishing 13th in the points. In his Indianapolis 500 debut, Goodyear was tenth.
For the 1991 CART season, Goodyear joined Walker Racing to drive the #15 Lola-Judd. He was again 13th in the final points, scoring eight top 10 results.
From last to second at 1992 Indianapolis 500
Goodyear stayed with Walker Racing in 1992. He reached top 5 at Long Beach and then gained fantastic result at Indianapolis 500. He started from the last place on the grid (33rd) and finished the race second, just 0.043 seconds behind Al Unser Jr. It was the closest Indy 500 finish in a history.
In the tenth round of the season, at Michigan International Speedway in August, Goodyear scored his maiden Indy Car victory. At the end of the season, he finished 5th in the points.
Daytona 24h podium with Jaguar XJR-12
Outside Indy Car, Goodyear had just one start in the IMSA GTP Championship. He joined Jaguar Racing at Daytona 24 Hours in  February 1992. The team was running two Jaguar XJR-12s but the #3 car failed to start the race due to engine problems.
Goodyear joined Davy Jones, Scott Pruett and David Brabham in the #2 car. They finished second overall and the first in the GTP class. Nissan won the race with R91C LM prototype. Goodyear returned with Jaguar to Daytona in 1993, taking 10th place together with Davy Jones and Scott Pruett.
One more victory at Michigan International Speedway in 1994
In the CART Indy Car World Series, Goodyear stayed one more season with Walker Racing in 1993. With two podiums on his account, he was ninth in the championship. At Indianapolis 500, he finished seventh.
For the 1994 CART season, Goodyear moved to King Racing to drive the #40 Lola-Ford. He scored just two tenth-place finished in the first nine rounds and then scored his second CART victory in the tenth round at Michigan International Speedway. At Indianapolis 500, he didn't finish the race. At the end of the season, he was 12th in the points.
Two seasons on a part-time schedule
In 1995, Goodyear had no full-time seat and he participated in just three CART races with Tasman Motorsports, including Indianapolis 500 where he was 14th in the #24 Reynard-Honda. It was a race in which he was fighting for a victory until late penalty which put him back.
In 1996, Goodyear rejoined Walker Racing in four races with ninth place at Vancouver as his best result.
Le Mans 24 Hours podium in 1996
After skipping Daytona 24h race for two years, Goodyear returned in February 1996 with Rohr Corp, driving the #01 Porsche 911 GT2 Evo. He didn't finish the race.
In June 1996, he also returned to Circuit de la Sarthe. Participating in Le Mans 24 Hours for the second time in a career he reached an overall podium, finishing in the third place together with Yannick Dalmas and Karl Wendlinger. They were driving factory-entered #26 Porsche 911 GT1.
Participating in the inaugural season of the Indy Racing League
In January 1997, Goodyear entered the inaugural season of the Indy Racing League, joining Treadway Racing in the third round at Walt Disney World Speedway. He finished in the third place.
In May, he finished second at Indianapolis 500, losing a victory to teammate Arie Luyendyk. Until the end of the season, Goodyear added two more podiums to finish fifth in the IRL standings.
Three DNFs in endurance races in 1997
Outside Indy Racing League, Goodyear participated in three rounds of the IMSA Championship with Davies Motorsports, driving the #45 Porsche 911 Turbo in the GTS-1 class at Daytona 24h, Sebring 12h and Watkins Glen 6h.
He recorded DNFs in all three races. His co-drivers were Ed Davies, Arie Luyendyk and Neto Jochamowitz.
Three seasons and three wins with Panther Racing
For the 1998 Indy Racing League season, Goodyear joined Panther Racing to drive the #4 G-Force (Oldsmobile). He was on a podium two times, ending a season seventh in the points. Next year, he was a race winner two times (Phoenix and Texas) in the #4 car, finishing ninth in the points.
In 2000, Goodyear reached his career-best result in the open-wheel racing, finishing as a vice-champion in the Indy Racing Northern Lights Series, behind Buddy Lazier. Goodyear was a race winner once, in the season's finale at Texas Motor Speedway.
Retiring from racing after a crash at 2001 Indianapolis 500
For the 2001 IRL season, Panther Racing replaced Goodyear with Sam Hornish Jr. Goodyear secured just one start, joining Team Cheever at Indianapolis 500. Driving the #52 Dallara-Nissan, he crashed out early, on lap 8, being collected by Sarah Fisher. Goodyear suffered a broken back and that injury forced him to retire from racing.
He then became a color analyst for ABC and ESPN's coverage of the IndyCar Series. Goodyear was inducted into the Canadian Motorsport Hall of Fame in 2002 and the Ontario Sports Hall of Fame in 2014.
One more Daytona start and Watkins Glen victory
Although he retired from racing in 2001, Goodyear recorded few more successful appearances in the sports car races. In February 2003, he came to Daytona with Brumos Racing, driving their #59 Fabcar-Porsche prototype in the 24-hour race. He, Hurley Haywood, Scott Sharp and JC France finished in the fifth place and the second in DP class.
A few months later, in June 2003, Goodyear has driven the #58 Fabcar-Porsche to a victory at Watkins Glen 6 Hours, sharing a car with David Donohue and Mike Borkowski. It was a final closure of Goodyear's career.
Photos: racer.com, speedsport-magazine.com, torontopubliclibrary.ca, motorsport.com,