Career Summary:
Gianpiero Moretti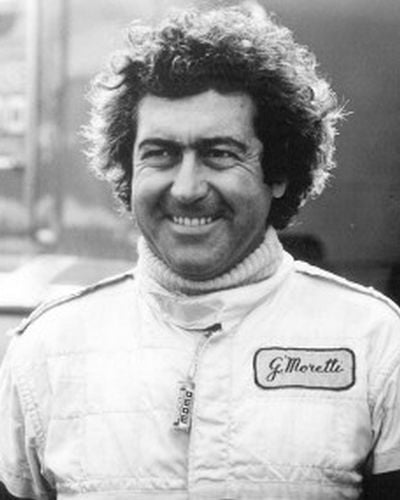 March 20, 1940

January 14, 2012

Italy

Not Active

273

27

64

13

9.89%

23.44%
Gianpiero Moretti (1940-2012), also referred as Giampiero, was an Italian racing driver and a founder of the famous MOMO racing products company. Moretti was active in racing for almost forty years, from the early 1960s to the late 1990s, mostly driving for the teams which he was sponsoring.
He achieved the most in the sports car racing, mostly in North America, reaching the peak in 1998 when he won both Daytona 24 Hours and Sebring 12 Hours in a Ferrari 333 SP.
The Momo company was founded in 1964
Born in March 1940 in Milan, Moretti started to race in the early 1960s, competing with different cars in national sports car events. In 1964, he founded the Momo company. The name of a company is a derivate of Moretti and Monza.
He commissioned a local craftsman to produce a custom steering wheel for his own race car. This special steering wheel - the first Momo steering wheel in the company's history - had a superior and thicker grip compared to the normal racing steering wheels available at the time.
Surtees won F1 Championship with Momo steering wheel
Other drivers quickly noticed Moretti's new steering wheel and wanted the same for their cars. The new Momo steering wheel also caught an attention of Ferrari F1 driver John Surtees, who wanted to mount it on his race car.
When John Surtees won the 1964 F1 Championship title, Moretti became the most popular steering wheel manufacturer in the racing world.  In the beginning, Momo's production was limited to the race car, but in the 1970s, the company expanded his offer to new product lines, including steering wheels and light alloy wheels for road cars.
Class victory at 1969 Targa Florio
Parallel to a development of his company, Moretti was developing his racing career. In the second half of the 1960s, he participated in the different racing discipline with different cars, including Abarth-Simca 1300, Fiat-Abarth 1000 TC or Porsche 911.
The first notable result came in May 1969 when Moretti and Everado Ostini finished 10th overall at Targa Florio and took GT2.0 class victory in a Porsche 911 T. In the same year, Moretti also gained some success in a Porsche 907, such was a class victory at Vila Real 6 Hours.
1970 – debut at Daytona and Le Mans
In 1970, Moretti made a debut in two endurance classics – Daytona 24 Hours and Le Mans 24 Hours. At Daytona, he was driving a Ferrari 512 S for Scuderia Filipinetti/Squadra Picchio Rosso. Sharing a car with Corrado Manfredini, he didn't finish the race. At Le Mans, Moretti and Manfredini were teammates again in a Ferrari 512 S, retiring after 111 laps.
Moretti scored few wins in a Ferrari that year, at Hillclimb Trieste – Opicina and Fuji 200 Miles. In 1972, Moretti raced with a variety of cars but without notable results.
Momo Racing name appeared in 1972
Moretti started to race under Momo Racing banner in 1972, visiting sports car events all over the world with different cars but without success. His race cars were De Tomaso Pantera, Ferrari 512 S, Lola T294-Cosworth or Momo 5000-Ferrari prototype. Due to business commitments, he didn't race much in the mid-1970s, being completely out of racing in 1975 and 1976.
He reactivated himself in 1977, joining Vittorio Brambilla at Silverstone 6 Hours in Jolly Club's Porsche 934. They were 7th overall and first in GT class. The race was a part of the World Championship for Makes. Later in the season, Moretti won some national races in a Porsche 934.
Racing in the US since 1978, first win in 1980
In 1978, Moretti moved his racing career to the United States, driving the #30 Electrodyne Porsche 935 in the IMSA Camel GT Challenge. He scored four podiums and finished third in the points of GTX class.
He continued to drive a Porsche 935 in 1979 for different teams, mostly for his Electrodyne/Moretti outfit. The maiden IMSA victory came in the penultimate round of 1980 season, in the #30 Porsche 935 at Road Atlanta. In November, at season's finale at Daytona, Moretti scored one more win, sharing a car with Reinhold Joest.
Famous co-drivers: Bobby Rahal, Derek Bell, Mauro Baldi...
In 1981, Moretti spent the IMSA GT Championship season in the #30 Momo/Penthouse Porsche 935, scoring just two podiums. In one of those two races, his co-driver was Bobby Rahal. In November 1981, Moretti finished third at Kyalami 9 Hours, sharing a Porsche 935 with Derek Bell and Mauricio DeNarvaez.
In 1982, Mauro Baldi became Moretti's teammate in some races of the World Endurance Championship, taking class wins at Silverstone and Spa in a Porsche 935. At Kyalami 9 Hours, which was the non-championship race, they finished fifth. In 1983, Moretti was sharing Porsche 935 in some IMSA races with Sarel van der Merwe but without notable results.
Switching to Alba prototypes in 1984
After many years with Porsche, Moretti switched to Alba AR3-Cosworth prototype in the 1984 IMSA GT Championship. The #30 car in Momo red livery wasn't capable to score wins or podiums, Moretti's best result was the fourth place at Lime Rock Park.
In 1985, the sixth place at Sears Point was the best result for Moretti in the #30 Alba AR5. In that race, he was sharing a car with New Zealander Steve Millen.
Combining Alba, Porsche and March
In 1986, Moretti raced with Alba AR6-Ferrari in IMSA Lights category but he spent most of the time in Joest Racing's Porsche 962, including DNF at Daytona 24 Hours. The highlight of the season was the second place at Watkins Glen 500 Miles in Brun Motorsport's Porsche 962, together with Oscar Larrauri.
In 1987, Moretti started a season with an unsuccessful attempt at Daytona 24 Hours with Zakspeed's Ford Mustang Probe. For the rest of the season, he drove the #30 March 86G-Buick. It was Moretti's car also for the 1988 IMSA season but he switched to Porsche 962 near the end of the year.
Cooperation with Gebhardt Racing from 1989 to 1991
For the 1989 IMSA season, Moretti started a cooperation with Gebhardt Racing, running the #30 Porsche 962 C. After one more DNF at Daytona 24h, Moretti finally scored a significant result at Sebring 12 Hours, finishing in the fourth place together with Derek Bell, Massimo Sigala and Michael Roe. Two weeks later, Moretti and Stanley Dickens reached a podium at Road Atlanta and then one more podium in June at Mid-Ohio.
In 1990, at the age 50, Moretti wasn't ready for a retirement. Momo-Gebhardt Racing started a season with one more DNF at Daytona 24 Hours. In June, after many years, Moretti returned to Le Mans, driving the #230 Porsche 962 C. Sharing a car with Gunther Gebhardt and Nick Adams, he retired after 138 laps.
The season 1991 was the last for Momo-Gebhardt team. Driving the #30 Porsche 962 C, Moretti finished best in the fifth place at Road Atlanta, sharing a car with Derek Bell.  After that, the team switched to Gebhardt C901-Audi prototype.
Podium at 1992 Sebring 12 Hours
In 1992, Moretti joined Joest Racing, moving Momo sponsorship and the number 30 to their Porsche 962 C. After not finishing the race at Daytona 24 Hours, Moretti reached a podium at Sebring 12 Hours. He finished third in a car he was sharing with Oscar Larrauri and Massimo Sigala.
With that podium and few other good results, Moretti finished sixth in the points of the IMSA GTP Championship.
Third place in the 1993 IMSA GTP Championship with Nissan
In 1993, one more change of the team followed. Moretti moved the number and the sponsorship to Nissan, driving the #30 Nissan NPT-90 for the full season and finishing the championship third in the points.
Traditionally, he had no luck at Daytona, recording one more DNF. On the other side, he was on a podium again at Sebring, finishing second in the 12-hour race. His co-drivers were Derek Bell and John Paul Jr.
Racing with Ferrari 333 SP since 1994
For the 1994 IMSA World Sportscar Championship, Momo made a switch to Italian car – the legendary Ferrari 333 SP. The team skipped Daytona and Sebring, having a fantastic start of the season with three wins (Lime Rock, Watkins Glen, Indianapolis) in four races in the #30 Ferrari. Moretti's co-driver was Eliseo Salazar. They were on a podium in all seven races they participated, finishing 11th in the championship points.
In 1995, the #30 Momo Ferrari 333 SP appeared at Daytona and Sebring but results were disappointing. In the remainder of the season, Moretti and Wayne Taylor scored three podiums. Wayne Taylor won some races on his own, finishing 4th in the championship while Moretti was tenth.
Podium at Daytona 24 Hours in 1996
After numerous unsuccessful attempts, Moretti finally reached a podium at Daytona 24 Hours in 1996, Sharing the #30 Ferrari 333 SP with Bob Wollek, Didier Theys and Max Papis, he finished in the second place. Next month, they were third at Sebring 12 Hours. Moretti scored three wins that year to finish 8th in the points.
In 1997, Moretti Racing's Ferrari was seventh at Daytona. That year, Moretti also returned to Le Mans, finishing sixth overall and third in LMP class in a Ferrari 333 SP.
Three great wins in 1998: Daytona 24h, Sebring 12h, Watkins Glen 6h
In 1998, Moretti finally managed to win Daytona 24 Hours. His partners in the #30 Doran Moretti Racing Ferrari 333 SP were Didier Theys, Mauro Baldi and Arie Luyendyk. To double the celebration at the end of a career, Moretti scored one great victory in the next race, triumphing at Sebring 12 Hours. His co-drivers were Baldi and Theys. Later that year, a trio closed a fantastic season with one more victory, finishing first at Watkins Glen 6 Hours.
In June 1998, Moretti recorded his last Le Mans participation, sharing the #3 Ferrari 333 SP with Mauro Baldi and Didier Theys. They finished 14th overall and third in LMP1 class.
Retiring from racing in 1999, selling a company in 1995
At the age 58, having few great trophies in his hands, Moretti was finally ready for a retirement from racing. In the meantime, during two decades while he was racing in America, Momo company became one of the most recognizable brands in motorsport.
In 1995, Gianpiero Moretti decided to sell Momo to American company Breed Technologies, keeping the chairmanship of the group. Breed Technologies was eventually acquired by the Carlyle Management Group, a private equity fund. A few years after, Carlyle Management merged Breed and Momo with other portfolio companies active in the automotive sector.
Gianpiero Moretti died in January 2012.
Photos: Momo, Getty Images,