Career Summary:
Wayne Taylor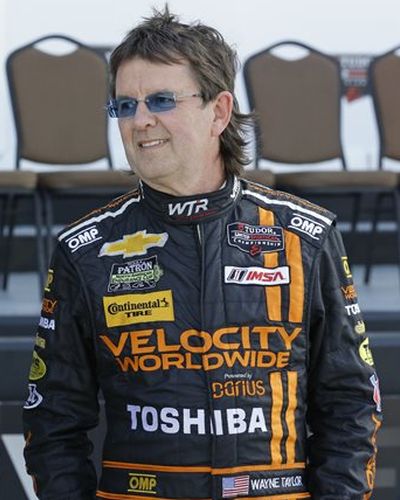 July 15, 1956

67

South Africa

Not Active

222

23

68

20

12

10.36%

30.63%
Wayne Taylor (born on July 15, 1956) is a former racing driver and current team owner from South Africa who spent an almost entire career in the USA, achieving the most notable results in the sports car competitions. He was the winner of Daytona 24 hours two times (1996 and 2005), Sebring 12 hours once (in 1996), IMSA champion two times (1994 and 1996) and Grand-Am Rolex Sports Car Series champion once (2005).
At 24 hours of Le Mans, Taylor participated thirteen times, scoring his best overall result in 1987, when he finished fourth in Kremer Racing's Porsche 962C. In 1998, he was 8th overall at Le Mans and LMP1 class winner with Doyle-Risi Racing's Ferrari 333 SP.
Wayne Taylor's team was active since 2004 as Riley factory team. Wayne became an owner in 2007. The Wayne Taylor Racing currently competes in the IMSA SportsCar Championship with Wayne's sons Jordan and Ricky as main drivers.
South African Formula 2 champion in 1986
Wayne Taylor started a career in the early 1980s, participating both in South African sports car and open-wheel competitions. He took place at famous Kyalami 9-hour race for the first time in 1982, driving a Mazda Capella alongside Paddy Driver. Next year, the race was a part of the FIA World Endurance Championship and Taylor was driving a Tiga SC83-Mazda, not finishing the race.
The biggest success in his home country came in 1986 when he became the winner of the South African National Drivers Championship. It was the last season of the series which was earlier known as the South African Formula 1 Championship. In 1986, the Formula 2 rules were eligible and Taylor was a champion in a Ralt RT4-Mazda.
Fourth place at Le Mans 24h debut
In June 1987, Taylor debuted at 24 hours of Le Mans, sharing the #11 Kremer Racing Porsche 962C with George Fouche and Franz Konrad. In his first race at Circuit de la Sarthe, Taylor finished in the fourth place. That turned to be his career-best overall result in the world's greatest endurance race.
Five months later, Taylor participated in one more event with #11 Kremer Racing Porsche, at non-championship race Kyalami 500 km. He and Harald Grohs didn't finish the race.
Unsuccessful Daytona debut in 1988
In 1988, Taylor started a season with his debut at 24 hours of Daytona, driving a Ford-powered ADA 03 prototype for ADA Engineering. He failed to finish the race.
Later in the season, Taylor participated in the C2 class of the World SportsCar Championship, driving a Tiga GC287 (Porsche) for Charles Ivey Racing and Spice SE87C (Ford) for GP Motorsport. At Le Mans, he was sharing the #121 Spice with Costas Los and Evan Clements, not finishing the race.
1989 WSC season with Spice Engineering
In 1989, Taylor stepped in the C1 class of the World Championship, driving a Spice SE89C for Spice Engineering. At Le Mans, his partners in the #22 car were Thorkild Thyrring and Tim Harvey. They retired after 150 laps.
In the same season, Taylor participated with Spice Engineering in several races of the IMSA Championship but without notable results.
Focusing on IMSA Championship since 1990
In 1990, Taylor focused his activities more on the IMSA GTP Championship, driving Spice-Chevrolet prototypes for Jim Miller Racing. Jim Miller himself was Taylor co-driver.
Taylor also participated in several WSC races for Spice Engineering. At Le Mans, he returned to the cockpit of Porsche 962C, driving the #33 car for Team Schuppan. His partners were Hurley Haywood and Rickard Rydell. They finished 12th overall.
Joining Intrepid RM-1 program in 1991
In 1991, Taylor became a part of the Intrepid RM-1 GTP program, driving the #63 Chevrolet-powered prototype for MTI Racing. He won one race, the 2 hours of New Orleans, finishing fourth in the final standings of the IMSA GTP Championship. At 1991 Le Mans race, he rejoined Team Schuppan to drive Porsche 962C once more, along with Hurley Haywood and James Weaver. After 316 laps, they were 13th.
In 1992, Taylor was combining Spice and Intrepid cars in the IMSA Championship, without any notable success. He joined BRM (British Racing Motors) to drive a BRM P351 in the World Sportscar Championship, including 24h Le Mans. He was driving twenty laps at Circuit de la Sarthe before a fire stopped the car. The season 1993 was similar to the year before in the American races. At Le Mans, Taylor rejoined Kremer Racing to drive the Porsche 962CK together with Jurgen Lassig and Giovanni Lavaggi. They were 12th overall.
IMSA WSC champion in 1994
Taylor captured his first sports car championship title in 1994, winning the WSC class of the IMSA Championship in the #63 Kudzu DG-3 prototype powered by Mazda rotary engine. He was driving for Downing/Atlanta team together with team owner Jim Downing.
After finishing tenth at Daytona 24h, they reached a podium at Sebring 12h, finishing in the third place. Taylor didn't win a race that season, but three podiums secure a championship title for him.
One season with Ferrari 333 SP
For the 1995 IMSA Championship season, Taylor joined Gianpiero Moretti's Momo team to drive the #30 Ferrari 333 SP in the WSC class. The Ferrari 333 SP was a dominant car that year. Scandia Racing's Fermin Velez was a champion, Taylor finished in the fourth place with two wins on his account. He won at Lime Rock Park and Texas World Speedway.
Daytona and Sebring wins led to the 1996 championship title
Another change of the team followed in 1996, which turned to be the most successful year in Wayne's career. He joined Doyle Racing to drive the #4 Riley & Scott MkIII powered by Oldsmobile V8 engine. Taylor opened a season with a victory at Daytona 24 hours, sharing a car with Scott Sharp and Jim Pace. One more great win followed at Sebring 12 hours, where Taylor's co-drivers were Jim Pace and Eric van de Poele. Later in the season, Taylor scored two more wins (Texas and Sears Point) to take the IMSA WSC championship title.
In June 1996, Taylor returned to Le Mans 24 hours, after skipping a race for two years. He, Jim Pace and Scott Sharp retired after 157 laps.
1998 Le Mans class victory with Ferrari 333 SP
Taylor continued to drive a Riley & Scott MkIII for Doyle Racing in 1997, with Eric van de Poele as full-time co-driver. Not winning a race, Taylor was seventh in the IMSA WSC championship points. At 24h Le Mans, he partnered Martin Brundle and Jorg Muller in the #21 Nissan R390, not finishing the race.
For the 1998 IMSA season, Doyle-Risi Racing was formed and the team was running Ferrari 333 SP. With two wins in the championship (Las Vegas and Petit Le Mans), Taylor finished second in the points, behind Butch Leitzinger. At 1998 Le Mans race, Taylor, van de Poele and Fermin Velez finished in the 8th place and won the LMP1 class.
Partnership with Max Angelelli started in 1999
After the original IMSA Championship was discontinued for 1999, Doyle-Risi Racing switched to the United States Road Racing Championship (USRRC) and American Le Mans Series (ALMS). At Daytona, Taylor and three co-drivers Max Angelelli, Allan Mc Nish, Didier de Radigues) finished in the second place. At Sebring, they were sixth. With Alex Caffi as his full-time co-driver in the ALMS, Taylor finished 12th in the points.
Besides average results, the season 1999 was more important because Taylor started his partnership with Max Angelelli, which exists still today.
Part of the Cadillac Northstar project for three seasons
For the 2000 season, Taylor became a part of the Cadillac Northstar project. Max Angelelli and Eric van de Poele were his partners at Daytona and Sebring, not scoring notable results. The same three drivers contested together at 24h Le Mans in the #2 Cadillac Northstar LMP, finishing in the 22nd place.
In 2001, Taylor and Max Angelelli were driving Cadillac Northstar LMP01 in the American Le Mans Series, finishing 11th in the LMP900 classification. At 24h Le Mans, they were driving Cadillac for the French team DAMS, along with Christophe Tinseau, to finish 15th overall. The same trio returned to Le Mans a year later, finishing 9th overall. It was Taylor's last participation at 24 hours of Le Mans.
Taylor and Bob Riley formed a team in 2004
The General Motors discontinued the Northstar program at the end of 2002. Taylor tried to secure funds for a private effort with a car but he failed. After having a year off, he made a deal with longstanding technical partner Bob Riley to form a team for the 2004 Rolex Sports Car Series. SunTrust became a naming sponsor for their #10 Riley MkXI-Pontiac.
Taylor was a race winner three times, together with Max Angelelli, to finish second in the championship behind Max Papis and Scott Pruett.
Daytona victory and championship title in 2005
In 2005, Wayne Taylor and Max Angelelli started a season with a victory at Rolex 24 at Daytona. The third driver in the #10 SunTrust Riley MkXI was Emmanuel Collard. Taylor and Angelelli scored five more wins to capture Rolex Series championship title. They were winners at Homestead, Barber Motorsport Park and two times at Watkins Glen.
The third season in the #10 SunTrust Riley-Pontiac wasn't successful. Without wins, Taylor was far from the top, finishing 33rd in the points.
Wayne Taylor Racing debuted in 2007
In mid-2006, Taylor and Bob Riley parted ways. Wayne formed his own team Wayne Taylor Racing (WTR) to start competing in the 2007 Rolex Sports Car Series. The team retained SunTrust sponsorship and the name.
It was the last season Wayne as a driver. He was sharing the #10 Riley-Pontiac with Max Angelelli, Jan Magnussen, Jonathan Cochet, Memo Gidley and Michael Valiante. At Daytona 24h, Taylor and Angelelli were joined by Jan Magnussen and Jeff Gordon to finish in the third place.
Focusing on team owner's duties since 2008
Since 2008, Wayne Taylor was focusing on leading the team, participating occasionally in endurance races. At 2008 Rolex 24 at Daytona, he and his son Ricky joined the regular drivers Max Angelelli and Michael Valiante to finish in the fifth place with #10 Riley MkXI-Pontiac.
For 2009 season, the team switched to Dallara DP01-Ford. At Daytona, the #10 crew finished in the fourth place. The drivers were Wayne Taylor, Max Angelelli, Pedro Lamy and Brian Frisselle.  A year later, the same car finished in the sixth place.
One more Daytona podium in 2014
Wayne Taylor stepped into the cockpit for the last time in 2014, joining his sons and Max Angelelli in the #10 WTR Chevrolet Corvette DP at Rolex 24 at Daytona. They finished in the second place. That year, Jordan brothers finished second in the final standings of the IMSA United SportsCar Championship. A year before, Max Angelelli and Jordan Taylor were the last Rolex Sports Car Series champions.
In 2017, Ricky and Jordan Taylor won both Daytona 24h and Sebring 12h to reminiscent on father's 1996 season. They added three more wins in the #10 Cadillac DPi so they are on the best way to repeat father's championship-winning season.